A Gentleman In Moscow
Who knew a life under house arrest could be so entertaining.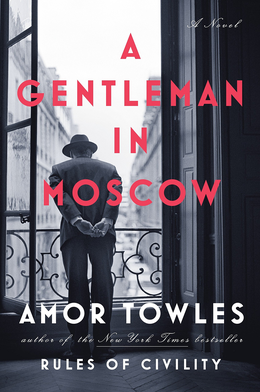 At this point in my reading career (amateur status), most of the books I read can easily be classified as non-fiction, and when I do read fiction, it's rarely beyond a comic strip like xkcd, Sarah's Scribbles or Calvin & Hobbes. However, after watching Jordan read Amor Towles' A Gentleman in Moscow, it was easy to add this great book to my reading list.
At one point Jordan burst into laughter (not too uncommon) envisioning the Count, our main character, witness guests at the hotel dropping different objects (including an egg) from the second floor balcony of the Metropol's ballroom to test the accuracy of Newton's law of universal gravitation they had learned about in school. Towles' ability to illustrate scenes like this and his quirky attention to detail brings the Count to life in a way that by the end of the book you really feel like friends.
This surprisingly upbeat book follows the life of Count Alexander Ilyich Rostov, an unrepentant (according to the Bolshevik tribunal) Russian aristocrat, sentenced to life under house arrest in Moscow's Metropol Hotel in 1922, after the Great October Socialist Revolution when the Bolshevik Party, founded by Vadimir Lenin, took power of the newly formed Soviet Union currently under provisional governmental control after Grand Duke Michael declined to take power after Tsar Nicholas II abdicated in 1917.
And while the book is fictional (and the Count as far as I know), the events happening outside of the very real Metropol Hotel are true to the interesting (and volatile) Russian history in the 20th century. The book stays fairly focused on the Count's life inside the hotel, who feels like a man stuck in time with the Metropol, watching life go on around them, which allows large historical events, like World War II, to get little mention outside of the footnotes (a great story by themselves). So you don't need to be a Russophile to understand this addicting and fun book.
Without spoiling too much of this rich story, my favorite scenes of the book were of the Count, who together with the cook and maître d', have managed to secretly collect all of the ingredients needed for a decadent seafood stew, called bouillabaisse, to share amongst themselves. After they've prepared the dish, they spend the afternoon telling stories and reliving memories. This moment in the book, together with Towles' ability to bring these moments to life, really do make you feel like you've missed a wonderful afternoon with friends.
Overall A Gentleman in Moscow is such a fun read with such a rich and amazing story spanning the full spectrum of romance, fun, politics, and thrills, making this book easy to recommend to friends for their 2020 reading.